Product Description
cast steel floating ball valve structural feature
Switch Indication of Hand operated Float Ball Valve
Locking Device
Anti- Blow out of stem
Anti- Static Device
Middle Flange leak-tight structure
Full bore & Reduce bore
1.Indication of valve`s open and close positions
Ball, stem and handle are one assembly unit. The stem head is a flat square structure and the valve is easy tobeseen either in the opened or close position from the place the handle is in. when the handle or the flat square of the stem head is parallel with the pipeline, the valve is in the fully opened or close opened position. While n the fullyclosed one when vertical to the pipeline.

2. Locker
To prevent maloperation of the valve, a hanging lock can be used to lock it when in the fully opened or closed position, which is very important especially for the valve mounted outside or not allowed to be opened or closed by the technological flow.

3. Stem fly-resisting structure
The stem may be pushed out by the pressure in the middle cavity of the body when th medium goes through the valve.To prevent this, a flyresisting structure is made on the lower part of the stem. In this way, even if the packing and /or thrust bearing are burnt out in a fire or damaged by other causes, the medium`s pressure inside of the body will have both stem flange and upper sealing face of body tightly contacted so as to prevent a lot of medium form leaking form the damaged packing place.

4. Electrostatic-proof device and fire-fighting structure
Both electrostatic-proof device and fire-fighting structure and fir-fighting structure are designed. Once the seat ring is burnt out in case of a fire. The ball would be directly contacted with the metal face of the body so as to prevent a lot of the body so as to prevent a lot of medium from leaking from leaking from the burnt place of the seat ring.

5.Unique sealing structure of seat ring
The dual-line seal and the self-combustible pressure discharge able seat ring designed by way of combining the years ball valve manufacturing experience and the foreign advanced know-how can ensure the full seal under a high or low pressure and a vacuum state.

6. Full or reduced diameter
The valve nominal diameter is identical to the inner diameter of the pipeline (which can be reduced one if so required by users ) for the sake of cleaning.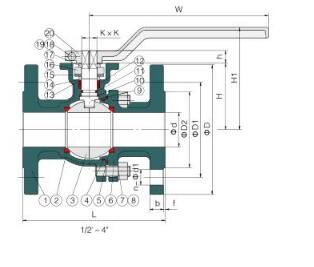 | | | |
| --- | --- | --- |
| NO: | PARTS | MATERIAL |
| 1 | BODY | WCB CF8 CF8M |
| 2 | SEAT | PTEE |
| 3 | BALL | CF8 CF8 CF8M |
| 4 | 0-RING | FPM |
| 5 | GASKET | PTEE |
| 6 | BONNET | WCB CF8 CF8M |
| 7 | BOLT | 304 |
| 8 | NUT | 304 |
| 9 | STEM | 304 304 316 |
| 10 | STEM WASHER | PTFE+25%GF |
| 11 | O-RING | FPM |
| 12 | PACKING | PTEE |
| 13 | WEAR WASHER | PTEE+25%GF |
| 14 | GLAND | 304 |
| 15 | DISC SPRING | 304 |
| 16 | GLAND FLANGE | CF8 |
| 17 | STOPPER | 304 |
| 18 | HEX SOCKET BOLT | 304 |
| 19 | NUT | 304 |
| 20 | HANDLE | WCB/CF8 |
| 21 | BOLT | 304 |
| 22 | NUT | 304 |
Dimensions CLASS150
Nominal Diameter
L
d
D2
D1
D
b
f
n-Φd1
H
h
H1
W
Ra
Rb
A
B
KxK
15
1/2"
108
15
35
60.3
90
10
2
4-16
55
9
87
140
3.0
3.5
36
50
9x9
20
3/4"
117
20
43
69.9
100
10.5
2
4-16
60
9
92
140
3.0
3.5
36
50
9x9
25
1"
127
25
51
79.4
110
10.5
2
4-16
67
11
102
170
3.0
3.5
42
50
11x11
32
1-1/4"
140
32
63.5
88.9
115
11.2
2
4-16
76
11
111
170
3.0
3.5
42
50
11x11
40
1-1/2"
165
40
73
98.4
125
12.7
2
4-16
85
14
123
200
3.5
4.5
50
70
14x14
50
2"
178
50
92
120.7
150
14.3
2
4-19
93
14
131
200
3.5
4.5
50
70
14x14
65
2-1/2"
190
65
105
139.7
180
15.9
2
4-19
113
17
157
300
4.5
5.5
70
102
17x17
80
3"
203
80
127
152.4
190
17.5
2
4-19
126
17
170
300
4.5
5.5
70
102
17x17
100
4"
229
100
157
190.5
230
22.3
2
4-19
141
17
185
300
4.5
5.5
70
102
17x17

Dimensions CLASS 300
Nominal Diameter
L
d
D2
D1
D
b
f
n-Φd1
H
h
H1
W
Ra
Rb
A
B
KxK
15
1/2"
140
15
35
66,7
95
12.7
2
4-16
55
9
87
140
3.0
3.5
36
50
9x9
20
3/4"
152
20
43
82.6
115
14.3
2
4-16
60
9
92
140
3.0
3.5
36
50
9x9
25
1"
165
25
51
88.9
125
15.9
2
4-16
67
11
102
170
3.0
3.5
42
50
11x11
32
1-1/4"
178
32
63.5
98.4
135
17.5
2
4-16
76
11
111
170
3.0
3.5
42
50
11x11
40
1-1/2"
190
40
73
114.3
155
19.1
2
4-16
85
14
123
200
3.5
4.5
50
70
14x14
50
2"
216
50
92
127
165
20.7
2
4-19
93
14
131
200
3.5
4.5
50
70
14x14
65
2-1/2"
241
65
105
149.2
190
23.9
2
4-19
113
17
157
300
4.5
5.5
70
102
17x17
80
3"
282
80
127
168.3
210
27
2
4-19
126
17
170
300
4.5
5.5
70
102
17x17
100
4"
305
100
157
200
255
30.2
2
4-19
141
22
226
650
4.5
5.5
70
102
22x22
Bob Zheng (sales manager)
Ningbo RMI Plastic Co.,Ltd
Tel:+86-574-86865705
Fax:+86-574-86865705
http://www.rmiplast.com/