Product Description
Product Feature:
1. Floating ball, full bore or reduce bore.
2. ISO5211 mounting pad for easy automation.
3. Blow-out proof stem design.
4. PTFE/RPTFE seat seal( Seat seal material could be decided by customer's request or according to valve's medium & temp. Condition).
5. Fire-proof and anti-static design if need.
6. Operation: Hand wheel, Worm wheel, Pneumatic actuator & Electric Actuator.

Technical Specification:
1. Design & Manufacture standard: API 6D, API 608, BS 5351.
2. Pressure & Temperature standard: ASME B16.34.
3. Face to face dimension standard: ASME B16.10.
4. Flange standard: ASME B16.5, ASME B16.47.
5. Test & Inspect standard: API 598, API 6D.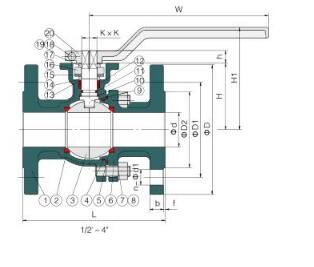 | | | |
| --- | --- | --- |
| NO: | PARTS | MATERIAL |
| 1 | BODY | WCB CF8 CF8M |
| 2 | SEAT | PTEE |
| 3 | BALL | CF8 CF8 CF8M |
| 4 | 0-RING | FPM |
| 5 | GASKET | PTEE |
| 6 | BONNET | WCB CF8 CF8M |
| 7 | BOLT | 304 |
| 8 | NUT | 304 |
| 9 | STEM | 304 304 316 |
| 10 | STEM WASHER | PTFE+25%GF |
| 11 | O-RING | FPM |
| 12 | PACKING | PTEE |
| 13 | WEAR WASHER | PTEE+25%GF |
| 14 | GLAND | 304 |
| 15 | DISC SPRING | 304 |
| 16 | GLAND FLANGE | CF8 |
| 17 | STOPPER | 304 |
| 18 | HEX SOCKET BOLT | 304 |
| 19 | NUT | 304 |
| 20 | HANDLE | WCB/CF8 |
| 21 | BOLT | 304 |
| 22 | NUT | 304 |
Dimensions CLASS150
Nominal Diameter
L
d
D2
D1
D
b
f
n-Φd1
H
h
H1
W
Ra
Rb
A
B
KxK
15
1/2"
108
15
35
60.3
90
10
2
4-16
55
9
87
140
3.0
3.5
36
50
9x9
20
3/4"
117
20
43
69.9
100
10.5
2
4-16
60
9
92
140
3.0
3.5
36
50
9x9
25
1"
127
25
51
79.4
110
10.5
2
4-16
67
11
102
170
3.0
3.5
42
50
11x11
32
1-1/4"
140
32
63.5
88.9
115
11.2
2
4-16
76
11
111
170
3.0
3.5
42
50
11x11
40
1-1/2"
165
40
73
98.4
125
12.7
2
4-16
85
14
123
200
3.5
4.5
50
70
14x14
50
2"
178
50
92
120.7
150
14.3
2
4-19
93
14
131
200
3.5
4.5
50
70
14x14
65
2-1/2"
190
65
105
139.7
180
15.9
2
4-19
113
17
157
300
4.5
5.5
70
102
17x17
80
3"
203
80
127
152.4
190
17.5
2
4-19
126
17
170
300
4.5
5.5
70
102
17x17
100
4"
229
100
157
190.5
230
22.3
2
4-19
141
17
185
300
4.5
5.5
70
102
17x17

Dimensions CLASS 300
Nominal Diameter
L
d
D2
D1
D
b
f
n-Φd1
H
h
H1
W
Ra
Rb
A
B
KxK
15
1/2"
140
15
35
66,7
95
12.7
2
4-16
55
9
87
140
3.0
3.5
36
50
9x9
20
3/4"
152
20
43
82.6
115
14.3
2
4-16
60
9
92
140
3.0
3.5
36
50
9x9
25
1"
165
25
51
88.9
125
15.9
2
4-16
67
11
102
170
3.0
3.5
42
50
11x11
32
1-1/4"
178
32
63.5
98.4
135
17.5
2
4-16
76
11
111
170
3.0
3.5
42
50
11x11
40
1-1/2"
190
40
73
114.3
155
19.1
2
4-16
85
14
123
200
3.5
4.5
50
70
14x14
50
2"
216
50
92
127
165
20.7
2
4-19
93
14
131
200
3.5
4.5
50
70
14x14
65
2-1/2"
241
65
105
149.2
190
23.9
2
4-19
113
17
157
300
4.5
5.5
70
102
17x17
80
3"
282
80
127
168.3
210
27
2
4-19
126
17
170
300
4.5
5.5
70
102
17x17
100
4"
305
100
157
200
255
30.2
2
4-19
141
22
226
650
4.5
5.5
70
102
22x22
Bob Zheng (sales manager)
Ningbo RMI Plastic Co.,Ltd
Tel:+86-574-86865705
Fax:+86-574-86865705
http://www.rmiplast.com/