Product Description
Triple offset wafer electric butterfly valve is a long life, energy-saving electric butterfly valve. Butterfly valve structure triple offset butterfly valve adopts three-dimensional eccentric principle design, the seat is hard and soft seal compatible multi-level structure, processing is superb, technology is progressive. Butterfly valve is electric butterfly valve product consists of valve body, disc, multi-level valve seat, stem, transmission mechanism, etc. Butterfly valve is wafer butterfly valve is widely used in the metallurgical, electric, petroleum, chemical, air, gas, combustible gas, water supply and drainage and other corrosive medium pipeline with temperature ≤500℃. It is the best device to adjust the flow and cut off the fluid.
Triple Offset Wafer Electric Butterfly Valve
Features as below:
1. Butterfly valve is open torque is small, flexible and convenient, energy saving.
2. Butterfly valve is three-dimensional eccentric structure, so that the disc closes more and more tight, the sealing performance is reliable, zero leakage.

Specification
Butterfly valve is high pressure resistance, corrosion resistance, wear resistance,with long service life.
This triple offset butterfly valve is designed with a three-dimensional eccentric principle, so that the sealing surface space motion trail achieves idealized. Sealing surface is without between friction and interference, coupled with the proper choice of sealing material, which ensures butterfly valve sealing, corrosion resistance, high temperature resistance and wear resistance, etc.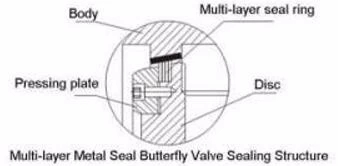 | | |
| --- | --- |
| | |
| | |
| | |
| | |
| | |
| | GB/T13927-1992; JB/T9092-1999 |
| | Air, Water, Sewage, Steam, Gas, Oil, etc. |
| | |
| --- | --- |
| | |
| | Gray cast iron, Ductile iron, Cast steel, Alloy steel, Stainless steel |
| | Gray cast iron, Ductile iron, Cast steel, Stainless steel, Special material |
| | 45#, 2Cr13, Stainless steel, Chrome-molybdenum steel |
| | Combined With Stainless steel |
| | Austenitic stainless steel, 304 nitride |
| | Flexible graphite |
Dimension (Connection Size mm)

Triple Offset Features and Principle:
1. Butterfly valve is deviate from pipeline center.
2. Butterfly valve is deviate from sealing surface center.
3. Butterfly valve is inclined cone when valve is opening, disc and valve seat contacted each other at moment of valve is closed. Because of eccentric 1#, eccentric 2#, disc can separate quickly form the valve seat, reduced abrasion of sealing surfaces, friction torque is small, easy to open. Because of eccentric cone 3#, when the valve is opening or closing, disc can go through the valve seal inner channel, achieve contact sealing.
4. Butterfly valve is rotation radius of the conical disc is bigger than the rotation radius of the sealing surfaces contacted position, so the disc will close more and more tight when valve is closing, to achieve self-locking, to prevent the disc from over positi