Product Description
Back pressure valveIt meansBack pressure valve that there is a certain pressure due to the function of the valve, and the pressure can generally be adjusted. It can be used to control the flow of all kinds of fluids such as air, water, steam, corrosive media, mud, oil, liquid metal and radioactive medium. The opening and closing part is a disc shaped valve plate rotated around its own axis in the valve body so as to achieve the purpose of opening or closing or regulating. The main function of the pipe is cut off and throttling. The most commonly used systems are fluid metering dosing system, hydraulic control system, chemical reaction condition, state critical state control and so on. Basically, it can be divided into two parts: regulation and overflow.
Selection Guide

When selecting backpressure valves, the parameters and data must be determined.

1, the caliber of the required backpressure valve is usually the outlet diameter of the pump.

2. The range of pressure required to be set;

3. What kind of material is needed? Generally speaking, it is considered from the nature and temperature of the fluid conveyed. Conventional materials are: PVC, 304, 316, 316L stainless steel, carbon steel, etc.

4, import and export connection mode, this general requirement is less. However, in some systems, such as food and drinking water production systems, some pipelines may have special requirements for connection. Common connections include internal thread, flange and hose connection.


Product Features of Back Pressure Valve:
1, Compact structure and stable performance
2, Easy installation and debugging
3, Sensitive reaction and good reproducibility
4, Selective large size range DN10mm DN100mm
5, Small pressure difference by specially designed flow structure to avoid forming a closure
6, Easy to set the working pressure by regulating device
7, Installed in the bypassas overflow valve use
8, Used as anti siphon valve to prevent gravity under static conditions.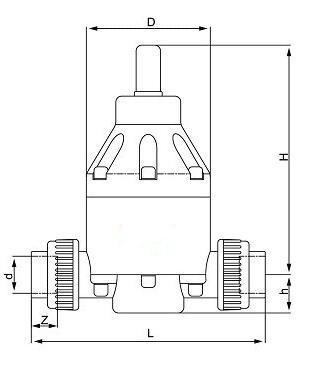 | | | | | | | | |
| --- | --- | --- | --- | --- | --- | --- | --- |
| MODEL | STAND | L | H | D | d | Z | h |
| 18615 | DN15 | 165 | 181 | 82 | 20 | 22 | 27 |
| 18620 | DN20 | 174 | 181 | 82 | 25 | 19 | 29 |
| 18625 | DN25 | 202 | 198 | 107 | 32 | 21 | 33 |
| 18632 | DN32 | 251 | 198 | 107 | 40 | 31 | 35 |
| 18640 | DN40 | 285 | 260 | 155 | 50 | 31 | 60 |
| 18650 | DN50 | 355 | 260 | 155 | 63 | 39 | 60 |
| 18665 | DN65 | 376 | 260 | 155 | 75 | 41 | 65 |
Product application