Product Description
Pneumatic Three Way Ball Valve have L port and T port. L port is for 2 way switch, T port is for 3 way switch. valve material of stainless steel 304. 316 and 316L for optional generally. connection end by thread NPT, BSPT and ISO standard, easy to connect and disconnect with pipe and equipment. pneumatic actuator double acting and single acting for choice. limit switch box and solenoid valve available for control purpose.
Pneumatic Three Way Ball Valve have following features and optional
Material: SS306, SS306L, SS304
Standards: DIN, ISO, NPT, etc
Specification: 1/4"~4"
Operating: Single Acting, spring return, double acting
Solenoid valve and limit switch box for optional
T port and L port available
Features:
1). Investment casting body
2). Working pressure 1000 psi for W.O.G.
3). Pure Teflon seals and seats
4). Temperature range: -60 to 450 °F
5). Blow-out proof stem, ball are made of ss316 or customer request
6). 100% leakage tested at 100 psi air under water
7). Hydraulic test pressure: 1500psi
Dimension sheet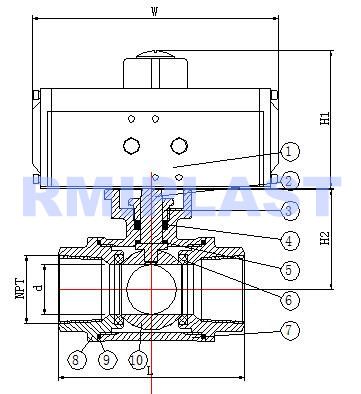 Double Acting
| | | | | | | |
| --- | --- | --- | --- | --- | --- | --- |
| Size | Thread | d | L | H1 | H2 | W |
| 1/4" | NPT/BSPT | 10 | 69 | 112 | 34 | 71 |
| 3/8" | NPT/BSPT | 12 | 69 | 124 | 34 | 86 |
| 1/2" | NPT/BSPT | 15 | 71 | 163 | 34 | 98 |
| 3/4" | NPT/BSPT | 20 | 84 | 163 | 42 | 98 |
| 1" | NPT/BSPT | 25 | 89 | 163 | 52 | 98 |
| 1-1/4" | NPT/BSPT | 32 | 117 | 181 | 58 | 113 |
| 1-1/2" | NPT/BSPT | 40 | 133 | 207 | 67 | 125 |
| 2" | NPT/BSPT | 50 | 148 | 213 | 78 | 134 |
| 2-1/2" | NPT/BSPT | 65 | 200 | 258 | 97 | 143 |
| 3" | NPT/BSPT | 80 | 237 | 287 | 112 | 158 |
Single Acting
| | | | | | | |
| --- | --- | --- | --- | --- | --- | --- |
| Size | Thread | d | L | H1 | H2 | W |
| 1/4" | NPT/BSPT | 10 | 69 | 163 | 34 | 98 |
| 3/8" | NPT/BSPT | 12 | 69 | 163 | 34 | 98 |
| 1/2" | NPT/BSPT | 15 | 71 | 163 | 34 | 98 |
| 3/4" | NPT/BSPT | 20 | 84 | 181 | 42 | 113 |
| 1" | NPT/BSPT | 25 | 89 | 181 | 52 | 113 |
| 1-1/4" | NPT/BSPT | 32 | 117 | 207 | 58 | 125 |
| 1-1/2" | NPT/BSPT | 40 | 133 | 213 | 67 | 134 |
| 2" | NPT/BSPT | 50 | 148 | 258 | 78 | 143 |
| 2-1/2" | NPT/BSPT | 65 | 200 | 287 | 97 | 158 |
| 3" | NPT/BSPT | 80 | 237 | 342 | 112 | 180 |